Guide Dogs Charity need Volunteers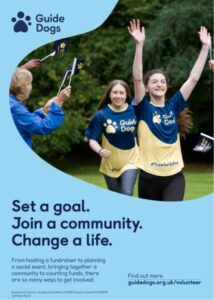 Guide Dogs is a national charity which supports people living with sight loss throughout the UK. They are looking for volunteers in and around Crawley to join the local Guide Dogs fundraising group, helping to promote and taking part in a variety of activities to raise money for Guide Dogs. Volunteers may help on stalls at local events, take collection boxes to local businesses, man collections at various venues, and they will support a group of like-minded people planning events and raising money.
Posts available for volunteering are –
Collection Box Coordinator
Deputy Fundraising group Coordinator
Fundraising group Coordinator
Fundraising Group Secretary
Merchandise Coordinator
Fundraising volunteer
Ideally you will have good communication skills and enjoy spending time with others.
For more information, potential volunteers can contact volunteer coordinators Sarah/Alice at Volunteer.Maidstone@guidedogs.org.uk.
You can visit website: www.guidedogs.org.uk/volunteer for more information and fill in the application form or if you are registered with Volunteer Plus of Crawley Community Action, all of the opportunities are Live on there to apply.