"Autism is a lifelong developmental disability which affects how people communicate and interact with the world. More than one in 100 people are on the autism spectrum and there are around 700,000 autistic adults and children in the UK" – National Autistic Society
What are the main features of autism?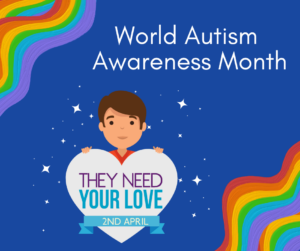 Autism Spectrum Disorder
Difficulty with communication and interaction with other people.
Restricted interests and repetitive behaviours.
Symptoms that affect their ability to function in school, work, and other areas of life.
Highly focused interests & hobbies
Extreme anxiety
Meltdowns & shutdowns
Help & Support available in Crawley & West Sussex
Autism Support Crawley – Autism Support Crawley is a voluntary parent/carer support group.

Aspens

– Aspens offers services and support to autistic adults and children as well as their families and carers.

ARC Crawley

– The ARC supports families with a member who has a learning disability, providing a range of activities which offer respite.

Aldingbourne Trust

– Supporting people with learning disabilities and / or autism to reach their potential across Sussex & in Portsmouth.
Beech Hill by Voyage Care – They enable people with learning disabilities and complex care needs to live the life they choose. If you're looking for care and support or would like to learn more about their support services, please contact the friendly enquiry team.
Carers Support – Living with and caring for an autistic adult can be extremely rewarding, but also comes with many challenges. They are here to help the carers.
Impact Initiatives – They offer a range of training sessions to suit the needs of any team, organisation or individual that works with, supports or lives alongside autistic individuals.

My Network and My Network Plus

– provide support to people with lifelong conditions, including learning disabilities/autism to live as independently as possible. We offer group and individual support.
Outreach 3 Way – Part of Dimensions, Outreach 3Way is a Sussex charity that provides support for people with learning disabilities and autism in East and West Sussex
Reaching Families – Support from fellow parent-carers is one of the most effective ways in which parents of children with special educational needs and disabilities build resilience and emotional wellbeing.

Recovery College

– Offers resources for parents of children and young people who are diagnosed with Autism Spectrum Condition (ASC).

Spring Board : Crawley

– Springboard's Crawley 6-12's group provides support to disabled children, through sessions, activities, trips and breaks that give them opportunities to make friends and build friendships, play and become comfortable in safe and supportive environments. There is also a group for 12-18s and can be accessed here.
The curly hair project – 

The Curly Hair Project is an organisation that helps people on the autistic spectrum and the people around them, founded by autistic author Alis Rowe. They use cool things like animated films, comic strips and diagrams to make our work interesting and easy to understand!
Important Links