Tamil Learning Centre Activities planned
Tamil Learning Centre, Crawley is a non-profit community organisation , who have a series of community activities planned. They teach Tamil language, indulge in sports activities, art & dance, run the senior citizens activity club and many more cultural programs and celebrations.
Please see the activites, their venues and contact numbers –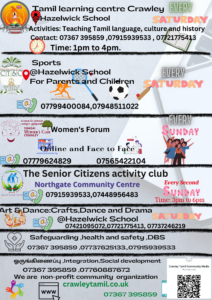 Language Class
Tamil Learning Centre is offering language class for learning Tamil, its cultural, heritage & history. The classes take place at Hazelwick School. Generally classes are on Saturdays from 1 pm. There are other traditional musical instruments, Art, Crafts, Drama & Dance taught at the same venue. If you are interested, please call – 073673 95859
Sports
Hazelwick school is also the venue for different sports activities, which take place every saturday as fitness is important. You do not have to play the sport before to join them. Just come for fun, fitness and relaxation. The offer is for both parents and children. If you are interested, please call – 077994 00084
Women's Forum
They have both online and face to face forum for women, who are meeting every sunday. This is the Vaagai Women's Club, Crawley. Women, who need support, from every walk of life can join them by calling 077796 24829
Senior Citizens Activity Club – 
This is a fantastic program planned for the seniors of Crawley and around. The club functions every second sunday, from 3pm to 4pm, at Northgate Community Centre. Activities are for both physical and mental relaxation. If you are interested, please call – 07915939533.
Know more about them at www.crawleytamil.co.uk  or call 07367 395859.