Epilepsy Action – Befriending Service
What is the befriending service?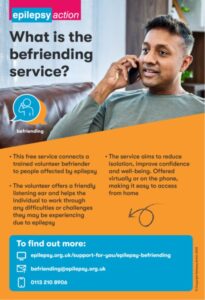 Befriending service links people who are affected by epilepsy to a volunteer befriender. Your befriender could be somebody to listen, if you are going through a difficult time. They could also help you take steps towards positive change, or provide support for looking after your child.
They will match you with a suitable volunteer befriender who will support you to:
Increase social life activities and reduce isolation
Encourage social connections
Help improve well-being
Develop supportive ways of coping and managing daily activities
Improve self-esteem, confidence and personal independence
Encourage physical activity, individual or social
Nurture trusting relationships outside of your home
After completing an online application, and if a suitable volunteer is found, you will be contacted for your first meeting. Please note that this process can take up to 4 weeks.
Sessions run weekly or fortnightly over a maximum period of 16 weeks (8 sessions in total). Meetings take place at a time that is mutable convenient for both you and the volunteer.
This service may be for you if:
You are 18 years or older, and living in the UK.
You are a person living with epilepsy or a parent/step parent/carer of a child with epilepsy