Outreach Worker
Recruiting Organisation: Crawley Open house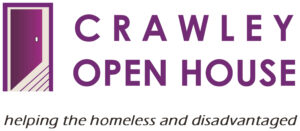 Working hours: 40 hours per week
Salary: £22,000 per annum
Contract: Permanent.
Location: Crawley
Crawley Open House is a well-established local charity providing a twenty-four-bed direct access hostel and a busy drop-in day-centre. Both provisions are designed to offer a high level of support to clients that are homeless and disadvantaged. The successful candidate will be part of an outreach service provided throughout the town to individuals who are homeless or demonstrate street drinking and anti-social behaviour.
You will provide help, support and advice to them in areas such as harm minimisation, acceptable behaviour, engagement with services and resettlement.
You will work closely with, the Police, Council officers and other organisations in the Crawley area.
​You will spend most of your time working away from your base, in and around the town, identifying new clients and meeting with clients on your caseload.
The hours in this role in this role will adjust to meet the needs of the clients and may involve early mornings and evening work.
​Applicants must have an empathy with the client group and the ability to work within the ethos of Crawley Open House. Previous experience of working with this client group would be advantageous.
EAP scheme in operation, workwear & meals provided.
To request an application pack please contact: Jane Nulty on 01293 447712 or via jane.nulty@crawleyopenhouse.co.uk
Closing Date: Friday, 2 Dec 2022