Hostel Worker
Recruiting Organisation: Crawley Open house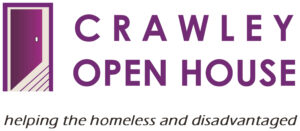 Working hours: 40 hours per week including weekends, bank holidays, evenings and nights.
Salary: £22,000 per annum
Contract: Permanent.
Location: Crawley
Crawley Open House is a well-established local charity providing a twenty-four-bed direct access hostel and a busy drop-in day-centre. Both provisions are designed to offer a high level of support to clients that are homeless and disadvantaged. They are looking for a Hostel Worker to provide support and understanding to all of the homeless and disadvantaged clients throughout the day and night in a multi-skilled role that includes key-working, cooking, life-skills, etc.
Applicants must have an empathy with the client group and the ability to work within the ethos of Crawley Open House. Previous experience of working with this client group would be advantageous but is not essential.
EAP scheme in operation, workwear & meals provided.
To request an application pack please contact: Jane Nulty on 01293 447712 or via jane.nulty@crawleyopenhouse.co.uk
Closing Date: 18 Nov 2022 (advert may end sooner if they reach application limit )