BTEC Sport Tutor
Recruiting Organisation: The Crawley Town Community Foundation (CTFC)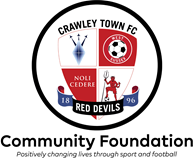 Working hours: Full Time (40 hrs)
Salary: £26,000-£30,000 per annum
Location: Crawley
Crawley Town Community Foundation is looking for a passionate and committed tutor to support the delivery of our BTEC Sports Tutor programme within our post-16 Education Academy Programme based at Crawley Town Football Club and in partnership with The Holy Trinity Sixth Form, Crawley.
BTEC Sport programme is the Foundation's Further Education pathway for young adults. They prepare students for higher education and training whilst supporting them as they shape their futures.
To apply for this position it is essential that the candidate holds a QTS teaching qualification (PGCE, BEd or equivalent).
Read More: BTEC-Tutor-Pack
Apply:https://www.ctcommunityfoundation.com/vacancies
Closing date: 14 July 2023, 12pm