Safer in Sussex Community Fund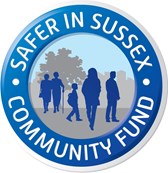 The Police & Crime Commissioner has set aside some funding for local community groups that help reduce or prevent crime in Sussex. The Safer in Sussex Community Fund (SiSCF) has supported many such projects over the past few years, to the benefit of local people and neighbourhoods.
The fund provides financial support (grant awards up to £5,000) to local organisations and projects that aim to reduce crime and improve community safety.
Applications for SiSCF will be accepted three times a year.
You can apply for funding using the online form.
Read the Terms & Conditions, Criteria & Apply here
Closing on : 19 May 2023