Prince's Trust programmes- July 2022
Prince's Trust is  pleased to share with you the upcoming opportunities for young people in Sussex.
Get Started as a 999 / 111 Emergency Call Handler with Southeast Coast Ambulance Service (SECAMb) in Sussex and Kent 18-30
During this online programme, the young people will have the opportunity to interact with employers, prepare for the assessment, and learn how to showcase their skills and experience in their application. On the third day of the programme, they will run mock interviews and provide with feedback. The delivery will take place online via Teams. After the completion of the programme, the young people will be able to apply for the development awards to support them with uniforms, tickets etc and to our mentoring programme.
When: Taster Day 20th July – Main Course 26th -28th of July
Where: Virtual via Teams
How: You can view more information and sign up using this link
Start a Career in Audiology with Specsavers – 18-30s
In partnership with The Prince's Trust and South Devon College, Specsavers are offering a 18-month training apprenticeship to help fast-track you into an exciting career in Audiology as a Trainee Hearing Aid Dispenser. Twenty candidates will be selected from across the country following a 1-week employability course delivered by The Prince's Trust to get you ready for the roles available.
Successful candidates will receive a fully funded 18-month college programme that culminates in professional audiology qualification and professional registration. Placements available in Chichester!
WHEN: Monday 25th July – Monday 1st August (Information session to learn more 6th July or 21st July)
WHERE: This course will be delivered online
Start a Career in Audiology with Specsavers Tickets, Mon 25 Jul 2022 at 09:30 | Eventbrite
Steps Into Health & Social Care – Southeast – 18-30
This tailored and flexible programme is for work-ready candidates wanting to learn about the Health & Social Care sector, roles available, and support accessing them. This style of course will be perfect for candidates who are work ready and might be unable to commit to a full day or week(s) course due to other commitments that may include childcare, work, or education. After registering, interested candidates will go through initial assessment which if passed they will be invited to just one of several regular short 1.5 – 2 hour 'Access' sessions where they will learn about the sector, partners to work with, roles available, the short developmental sessions they can sign up to, and monthly recruitment events with employers and their live vacancies.
When:   2 'Access' sessions are run each month – please see EventBrite listing for the upcoming dates.
Where: Virtual via Teams
How: You can view more information and sign up using this link 
Get Started with Games Design- 16-30s – **CHANGE OF PREVIOUSLY ADVERTISED DATE**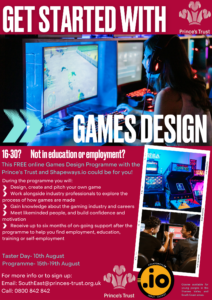 Delivered in partnership with Shapeways, this is an amazing opportunity to learn about how to design, create and pitch your own idea for a game. You will also have the opportunity to meet industry experts and gain an insight into the opportunities available in the sector.
When: Taster Day 10th August, Programme 15th-19th September
Where: Virtual
Enterprise- 18-30s
This is a four-day online programme for young people who are looking to start their own business. Receive 1-1 support from experienced mentors who will support you with turning your business idea into a reality.
When: courses are run regularly, enquire to sign up for the next available Info Session
Where: Virtual with some face-to-face networking and mentoring
Development Awards- 16-30s
Development Awards can cover the cost of course fees, tools or equipment to the value of approximately £160 in order to help young people anywhere achieve their goals and move into education, training or employment. For more information, visit the website here or get in touch
When: Applications can take 6-8 weeks but they will do their best to speed through an application if you need to!
Where: Virtual
Check out the following page on the website to see more courses available across the South: Opportunities Near Me | Help For Young People | The Prince's Trust (princes-trust.org.uk)
If you know of a young person who might be interested, you can contact the Customer Services Team on 0800 842 842, email SouthEast@princes-trust.org.uk, or complete the following form: Refer a Young Person