BACKSTAGE is back | Crawley Festivals
Crawley Festivals bring the Backstage back to us with lots of FREE entertainment for all ages and all cultures.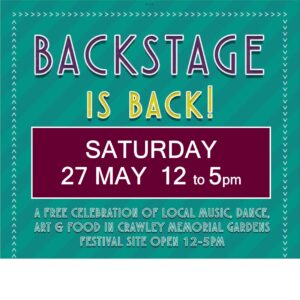 Date:  27 May 2023
Time:  12 to 5pm
Venue: The Memorial Gardens, Crawley
There will be –
fairground rides
workshops
music and dance performances at the Bandstand
Cultural Kitchen cookery demonstrations and food tasting from Diverse Crawley
food and drink sales
loads of different community stalls to help you to find activities you can get involved in to improve your health, well being and leisure time.
Come on down and join in the fun.  Brought to you by Crawley Festival .
There's lots going on in Crawley Town Centre to make this a really SUPER SATURDAY with more music and dance entertainment in Queen's Square, hosted by Crawley Borough Council , Crawley Town Centre BID and Creative Crawley as part of Brighton Festival's 'Without Walls' weekend.  For more details see the Spring edition of Crawley Live magazine.