Active Sussex Workforce & Safeguarding – July 2023
Active Sussex is offering the following programs this summer –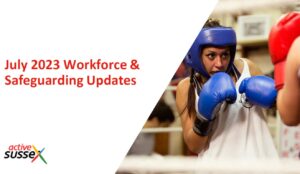 UK Coaching Awards 2023 nominations open – Do you know a coach who's making a difference , or perhaps you're that coach?
The UK Coaching Awards 2023 is on the hunt for nominations! With 10 diverse categories to choose from, there's an award to fit every unique coaching journey. Nominations close on Monday 4 September at 10am .
NEW Concussion Guidance for Grassroots Sports– The Government and the Sport and Recreation Alliance have published the first UK wide Concussion Guidelines – 'If in doubt, sit them out' for Grassroots Sport . This will help players, coaches, parents, schools, National Governing Bodies and sports administrators to identify, manage and prevent the issue.
Sport England Volunteering Q & A– This guide has a series of questions and answers designed to help your organisation or project achieve its goals while creating a more enjoyable, meaningful volunteering experience for all.
Read more: Active Sussex July 2023 Workforce & Safeguarding Updates
Contact Active Sussex for further support  – Nick Chellel, Strategic Workforce Officer, nchellel@activesussex.org