Understanding your experiences of NHS health and care in Sussex
NHS would like to hear from local people in Sussex about your views and experiences of the NHS in Sussex as work progresses to improve health and care for the next five years.

People across Sussex are being asked to have a say on NHS services and their experiences of local health and care. It comes as they prepare for the 75th anniversary of the NHS on 05 July and a year on from when NHS Sussex and Sussex Health and Care were established.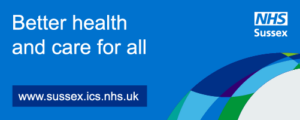 As part of these anniversaries, health and care leaders in Sussex will be publishing a five year action plan that will set out how NHS Sussex is working to improve the lives of local people by supporting them to live healthier for longer, and making sure they have access to the best possible services when they need them. The plan has already been informed by insight and feedback from people and communities across Sussex – and this new survey being launched today will help to further shape the actions needed.
You can have your say online – https://yoursaysussexhealthandcare.uk.engagementhq.com/embeds/projects/23934/survey-tools/24206
There will also be the opportunity to share your views face to face as teams from NHS Sussex attends community events and forums during May.
Please check Let's Talk about your experiences of NHS health and care in Sussex | Sussex Health and Care Your Say (engagementhq.com) for more details.