Staff in Mind – wellbeing for the staff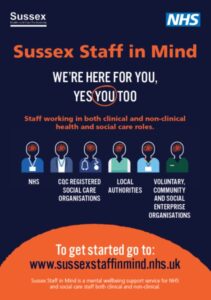 Staff in Mind, is a mental wellbeing support service for health and social care staff in Sussex including staff working in a healthcare role within VCSE organisations and CQC registered social care organisations.
Would you benefit from talking about your mental wellbeing?

Since January 2021, over 2,000 people working in health and social care roles within Sussex have accessed Sussex staff in mind.

 

Are you struggling at work but don't know who to talk to?

Sussex Staff in Mind is a completely confidential service that is here for you. You do not need to inform your manager or GP when accessing Sussex Staff in Mind.

Why not book a wellbeing check

with Sussex Staff in Mind?

Sometimes when it comes to the way we feel emotionally it can be hard to recognise or admit when we're not feeling good. It is hard to care about ourselves when we are focused on caring for others.

Are you struggling with your sleep?

It could be time for a mental wellbeing check? Contact Sussex Staff in Mind.
Working in health and social care can expose you to stressful, frightening and distressing experiences. If you need to talk about this contact Sussex Staff in Mind.
Anyone can self-refer by completing a self-assessment: https://www.sussexstaffinmind.nhs.uk/ and Community Works have been assured they are using a loose definition of heathcare staff within a VCSE organisation.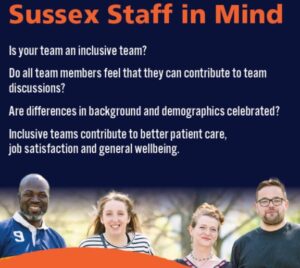 This is the best offer Community Works have been able to secure following from the closure (as of 28th January) of the Health Assured offer which has been available over the past year for all VCSE staff and volunteers and their families – this ends on 28th January but anyone currently signed up to the programme by that date will be able to finish any course of treatment they are involved in. Read more about this offer here – https://bhcommunityworks.org.uk/voluntary-sector/resources/eap/