Wyld Mothers Fire | Crawley – Let's reach more mothers together!
Wyld Mothers Fire is a unique nature connection concept. They are a community of powerful and conscious mothers, sparking friendship, laughter, collaborations, bravery and love, with nature as inspiration. They specialise in creating space for new mothers, mothers-to-be and mothers of all ages to flourish in nature and take some time out to relax and connect.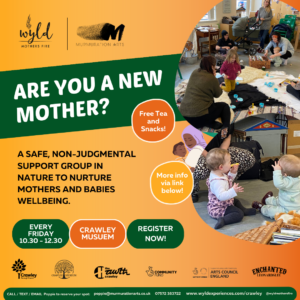 Space for Mothers: Crawley Museum – 103 High St, Crawley RH10 1DD
(The Museum is a 10 minute walk from Crawley train station and a 7 minute walk from the Bus Station.).
From 14 April, venue will shift to The Hawth, Woodland area next to amphitheatre – Hawth Ave, Crawley RH10 6YZ
(Metrobus is the local bus operator for the Crawley area. The closest mainline rail stations are Three Bridges and Crawley stations. Both a 15 minute walk at buggy pace.)
When: Every Friday, 10.30 am to 12.30 pm
Wyld Mothers Fire is proud to support local mothers, parents and businesses to come along and provide insightful, helpful and fun activities. All the guests are booked with the mothers in mind. Talks and workshops are all designed to help support the mothers, mentally and physically, in their recent journey into motherhood. The majority of guests are parents themselves, with most mothers being on maternity leave, allowing them to support them during their "normal" work hiatus.
If you know any mothers in Crawley that will be interested in joining Wyld Mothers Fire | Crawley, direct them to @wyldmothersfire link in bio or text Poppie on 07572383722 to reserve a place.
OR
Register for you place at Wyld Mothers Fire in Crawley