Roles 
I was the co-founder of the Crawley Black History Foundation, which ran from 2000-2015. In 2017, I co-founded DIVERSECrawley and have been the Chair ever since. I am also a Crawley Campaign Against Racism Committee member and a Trustee of Crawley Community Action, Longley Trust and Crawley Museum.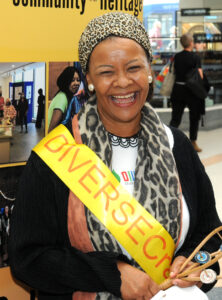 Personal background
I am a mother of two, grandmother of 6, and was recently sadly widowed. I trained as a registered general nurse at age 17 and as a midwife, and I have a BSc (Hons) in Podiatry from the University of Brighton.
When my first grandson was born, I had the burning desire for him to know his African cultural background, so a few of us formed the Afro-Caribbean Association 25 years ago, followed by the Crawley Black History Foundation.
In 2021, I was awarded the Crawley Volunteer Award for my 25 years of Community service. I have always enjoyed engaging with the community, joining the Red Cross in Zimbabwe at age 11!
Advice to others
Voluntary work is satisfying and rewarding, especially when you see community members from different backgrounds coming together and enjoying themselves, and you know that you played a big part in that enjoyment.
The importance of Black History month 
As the history of black people is not included in the current educational curriculum, children and people from black backgrounds do not have a sense of worth. They have difficulty finding their sense of identity.
It is important for October, Black History Month, to highlight the positive and varied contributions of black people as well as their rich and vibrant culture.
How do you bring the message to work? 
Every October, DIVERSECrawley has a month-long African and Caribbean Authors Books Displays at both Crawley and Broadfield Libraries
We have a month-long Crawley Museum Exhibition with different themes each year. For example, 2022 has a "Black Lives Matter update", Windrush Scandal update", Celebrating Afro-Caribbean Hair ( every day, we are posting local Black people's photos with different hairstyles), and Chagossian Islands History
We remind all Community members about the "Wear Red Day" Show Racism the Red Card! on 21st October- photos will be uploaded on Friday 21st October
We read diverse stories to children as young as 3 years old at Crawley Library.
Crawley College sometimes invites us to demonstrate cooking (and tasting) African and Caribbean food while we talk about Black History