Diabetes Peer To Peer Support Group –  Crawley
Do you have Diabetes or are afraid of it?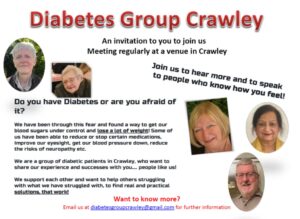 Diabetes Group Crawley invites you to join them and meet at a venue in Crawley to hear more and to speak to people who know how you feel. They are a group of diabetic patients in Crawley, who want to share their experience and successes with you. Find a way to –
 get your blood sugar under control
lose a lot of weight
reduce or stop certain medications
improve eyesight
get blood pressure down
reduce the risk of neuropathy
This group wants to support each other and help others struggling with what they have struggled with, to find real & practical solutions, that works !
Contact them at – diabetesgroupcrawley@gmail.com