Sussex Police & Crime Commissioner – Independent Custody Visitors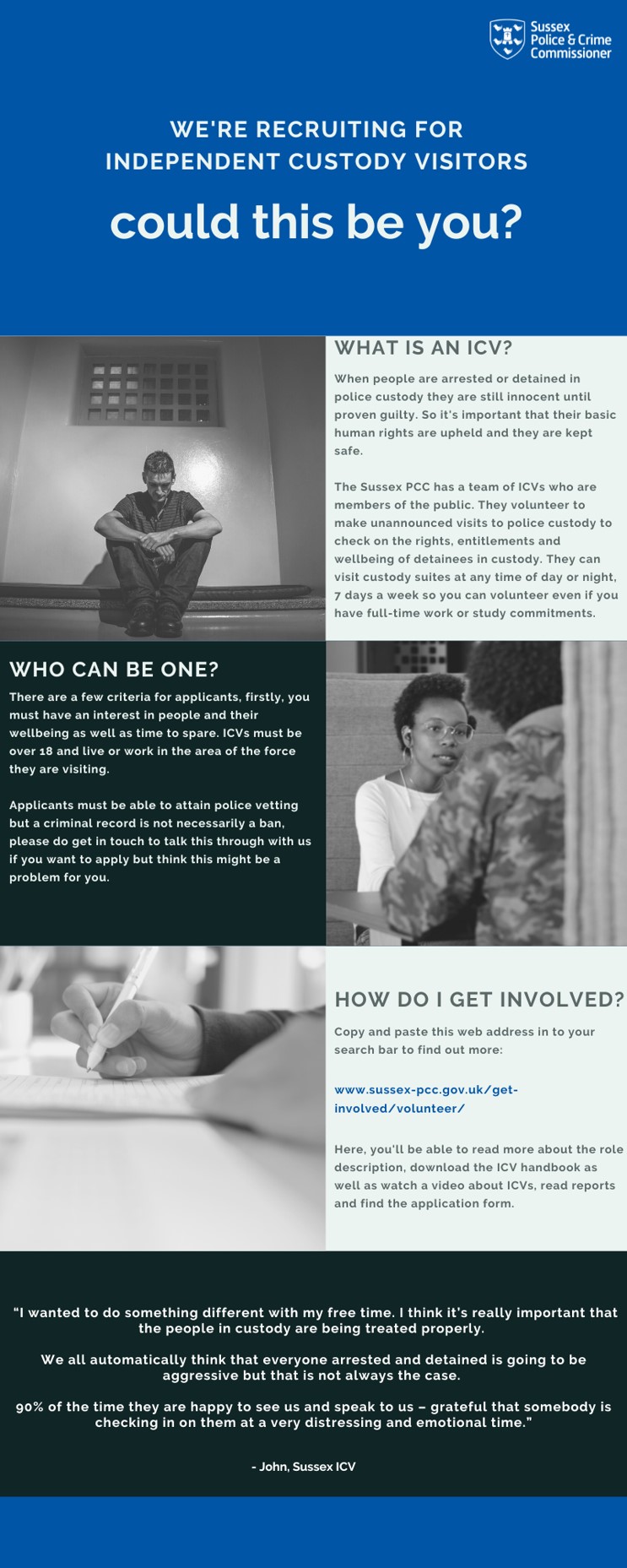 Here in Sussex, the Police & Crime Commissioner has a team of dedicated individuals who commit their own time to making sure detainees in custody are safe and that their basic human rights are upheld. These people are known as Independent Custody Visitors (ICVs). Many of you will already know about ICVs and the fantastic work and key role they carry out across Sussex.
For those of you that don't, ICVs are members of the public who make unannounced visits to police custody to check on the rights, entitlements and wellbeing of detainees in custody. ICVs can visit custody suites at any time of day or night. They continue to make big differences to detainees and their scrutiny has led to significant changes being made to custody protocols. For example, female detainees are now offered sanitary packs – basic things that will mean they can maintain some of their dignity.
They are looking for new ICVs to come on board and join the team. If you or someone you know has an interest in people and their well-being as well as the time to spare, this could be an ideal voluntary role for you.
ICVs must be over 18 and live or work in the area of the force they are visiting.
Applicants must be able to attain police vetting but a criminal record is not necessarily a ban.
Please do get in touch to talk this through with them if you want to apply but think this might be a problem for you.
With the role being round-the-clock, you can volunteer even if you have work, or study commitments.
You can find out more and apply via this link: SPCC – Volunteer (sussex-pcc.gov.uk) and if you have any further questions, contact Claire Taylor at claire.taylor@sussex-pcc.gov.uk
Last date for Application:  1 Sept 2022