Prince's Trust programs- June 2023
Prince's Trust is  pleased to share with you the upcoming opportunities for young people in Sussex.
Get Started with Podcasting- 16-30s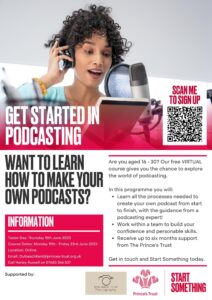 This virtual programme held online via Microsoft Teams, will take you through the creative process of producing a podcast. You will learn how to write, record, edit, and market your own podcast for personal or business purposes, or even just to showcase your audible talents!
When: 19-23 June with a Taster Day on the 15 June
Where: Virtual
Email: outreachkent@princes-trust.org.uk
Sign up: https://forms.office.com/e/RccDAc2Acw
Get Started with Games Design- 16-30s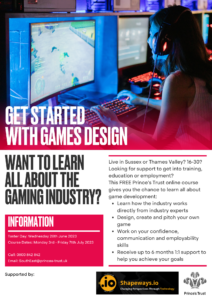 Interested in online gaming and finding out more about opportunities in the industry?
This FREE online course could be for you! You will work with industry professionals to design your own game and find out more about how to pursue your games design goals.
Please note- a laptop or desktop computer is required to access this programme.
When: 3-7 July with a Taster Day on the 28 June 2023
Where: Virtual
ONGOING PROGRAMMES
Enterprise- 18-30s
This is a four-day online programme for young people who are looking to start their own business. Receive 1-1 support from experienced mentors who will support you with turning your business idea into a reality.
When: courses are run regularly, enquire to sign up for the next available Info Session, 7 and 28 June 2023
Where: Virtual with some face-to-face networking and mentoring
Development Awards- 16-30s
Development Awards can cover the cost of course fees, tools or equipment to the value of approximately £160 in order to help young people anywhere achieve their goals and move into education, training or employment. For more information, visit  website here or get in touch
When: contact them whenever! Applications can take 6-8 weeks but they will do their best to speed through an application if you need them to!
Where: Virtual
Check out the following page on the website to see more courses available across the South: Opportunities Near Me | Help For Young People | The Prince's Trust (princes-trust.org.uk)
If you know of a young person who might be interested, you can contact the Customer Services Team on 0800 842 842, email SouthEast@princes-trust.org.uk, or complete the following form: Refer a Young Person