Prince's Trust programs- January 2023
Prince's Trust is  pleased to share with you the upcoming opportunities for young people in Sussex.
Get Into Healthcare Sussex – The Prince's Trust and Paragon Skills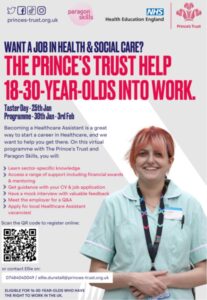 Taster Day: 25th Jan 1-3pm on Microsoft Teams
Main Programme: 30th Jan – 3rd Feb, 10-4pm on Microsoft Teams
Want to start a career in Healthcare? Becoming a Healthcare Assistant is a fantastic place to start! The Prince's Trust has partnered with Paragon Skills and healthcare employers across Sussex to offer a 1-week virtual programme, designed to help you have the best chance in applying for local healthcare assistant vacancies. On this programme, you will:
Learn sector-specific knowledge
Access a range of support including financial awards & mentoring
Get guidance with your CV, job application & interview
Have a mock interview with valuable feedback
Meet the employer for a Q&A
Apply for HCA jobs near you!
You can register using the QR code below, or contact Ellie on 07484040049 / ellie.dunstall@princes-trust.org.uk. You must be 18-30 and live in Sussex to register for this event.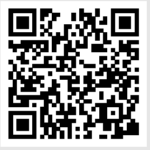 Enterprise- 18-30s
This is a four-day online programme for young people who are looking to start their own business. Receive 1-1 support from experienced mentors who will support you with turning your business idea into a reality.
When: courses are run regularly, enquire to sign up for the next available Info Session
Where: Virtual with some face-to-face networking and mentoring
Development Awards- 16-30s
Development Awards can cover the cost of course fees, tools or equipment to the value of approximately £160 in order to help young people anywhere achieve their goals and move into education, training or employment. For more information, visit  website here or get in touch
When: contact them whenever! Applications can take 6-8 weeks but they will do their best to speed through an application if you need them to!
Where: Virtual
Check out the following page on the website to see more courses available across the South: Opportunities Near Me | Help For Young People | The Prince's Trust (princes-trust.org.uk)
If you know of a young person who might be interested, you can contact the Customer Services Team on 0800 842 842, email SouthEast@princes-trust.org.uk, or complete the following form: Refer a Young Person