New Numeracy course – Albion in the Community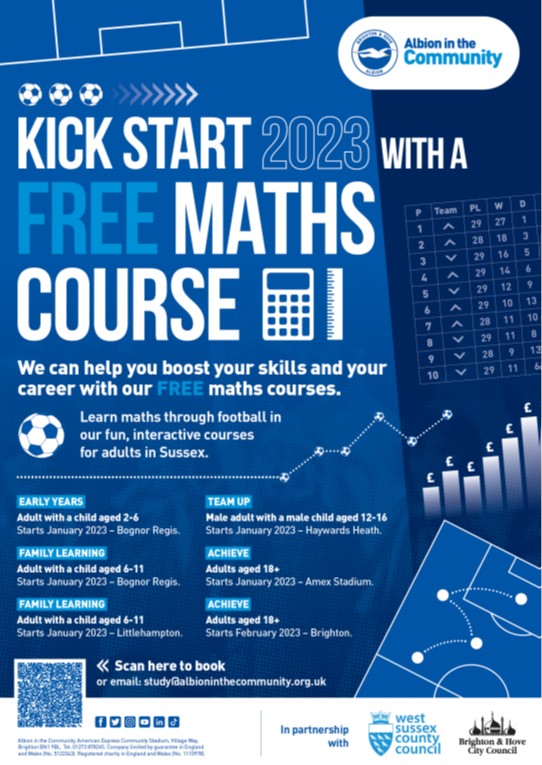 Albion in the Community have recently started a new numeracy course that is being funded by both West Sussex county council and Brighton & Hove council.
Adult numeracy programmes aim to support those aged 19+, who do not hold a Level 2 mathematics qualification (GCSE or Functional Skills), to increase confidence and competency in their numeracy skills. Each unique programme uses tools and activities to provide fun, real-life scenarios where numeracy skills can be learned and put into practice. Each course will be 6 weeks long (6 sessions across 6 weeks). They will be held at a number of different locations across West Sussex and Brighton and Hove.
They will also use nutrition and healthy eating workshops, linked to numeracy (for example counting calories, grams, and percentage of daily intake). This will be supported by their in-house nutritionist, focusing on healthy lifestyles, and eating healthily on a budget.
Team Up is available to men who have responsibility for younger males aged between 12-16. With a targeted focus to increase numeracy engagement and attainment for males in Sussex, they will work together to build confidence and reduce anxieties around numeracy. Using a range of activities including football and STEM, they aim to increase adult numeracy enabling you to have the competence and confidence to support younger males.
Early Years welcomes adults who are responsible for younger children who may be about to start school. The program aims to encourage and support adults to engage in numeracy learning. They hope to increase their confidence and basic mathematic skills, in order to reduce anxieties around numeracy for adults. Adults will work together alongside their children to solve puzzles and learn through play activities.
Family Learning is available to parents wanting to increase their own numeracy skills, in order to support their child's progression and numeracy attainment. Sessions will take place in the evenings, after-school, and parents will attend alongside their children.
Learning for Life supports adults with disabilities. This six-week intervention focuses on building skills and contextualising learning using real life examples, with learners inputting what they have learnt into real-life situations.
Achieve aims to increase engagement and confidence within numeracy activities for those aged 19+, relating numeracy to everyday life and enabling learning for life. They hope to upskill participants to increase numeracy confidence in adults with low numeracy attainment, with the goal being for participants to work towards achieving an accredited qualification.
This programme is being held in Brighton and hove locations and West Sussex locations.
To reduce barriers to learning they aim to help participants with travel costs to attend sessions.
At successful completion of the courses, they aim to provide either match day tickets for the participants to watch  Men's or Women's first team home matches or attend a tour of the stadium.
You can book a place in any of these courses here.
If you have any questions, then please contact Stevie Thornton (AITC), Administrator at 01273 878265 or email study@albioninthecommunity.org.uk