Diabetes & Menopause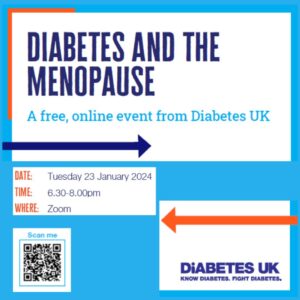 This is a free, online event from Diabetes UK.
Diabetes UK's South East Coast and London team welcomes Anne Eltringham Cox (Community Diabetes Specialist Nurse) to discuss the menopause – how it affects your experience of living with diabetes and what you can do about it – plus time for questions from the audience.
Date: Tuesday 23 January 2024
Time:6.30-8.00pm
Where: Zoom
This event is open to people living with or affected by diabetes and healthcare professionals.
Register here : https://diabetes-menopause-2023.eventbrite.com
Registration for the event closes 23 January 2024 at 6.00pm.
Amendment and cancellation requests should be sent via email to: secoastandlondon@diabetes.org.uk