Crawley Anti Racism Training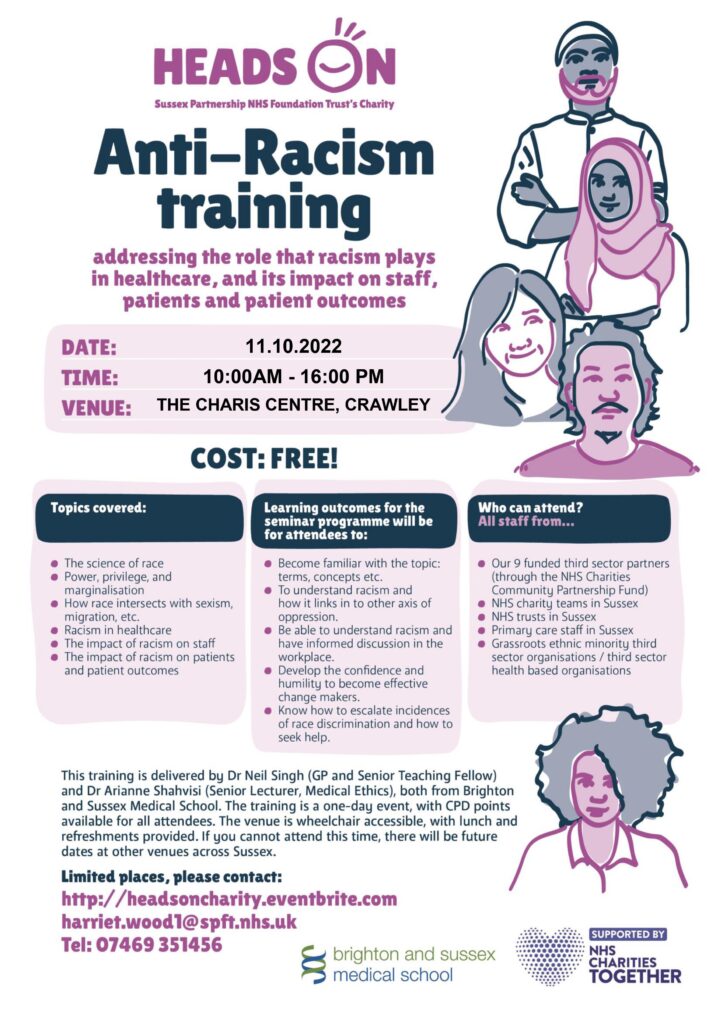 After some incredible feedback from July session, Anti-Racism training sessions are being continued this Autumn.
Date: 11 October 2022
Time: 10am-4pm
Venue: The Charis Centre, Crawley
These sessions are a one-off training day, delivered by Dr Neil Singh and Dr Arianne Shahvisi for third sector staff, NHS trust staff and NHS charity staff covering:
o The science of race
o Privilege
o Racism in healthcare
o Impact on staff
o Impact on patients and patient outcomes
These sessions are open to all NHS staff, their 9 fund third sector partners (and their delivery partners), NHS charity teams, primary staff and health based third sector organisations across Sussex. If you are unsure whether your organisation qualifies for a space, please get in touch.
This training is funded through the NHS Charities Together Community Partnership Fund, aiming to address the role racism plays in the delivery of healthcare.
First session in the Autumn series is based in Crawley and will be delivered 10am-4pm on the 11th October at the Charis Centre. They are hoping to release dates across both East Sussex, West Sussex and Brighton and Hove over the following weeks.
To register for the Crawley session, please visit Anti – Racism Training Crawley Tickets, Tue 11 Oct 2022 at 10:00 | Eventbrite