Boundaries Training in the VCSE Workplace
The Peer Partnership is providing boundaries training for organisations that have direct contact with service-users. With the cost of living crisis many organisations have been experiencing greater number of people attending their centres and services during this period, and those visiting are often coming with more complex circumstances than they have the capacity to manage. This can have a significant impact on you as service providers.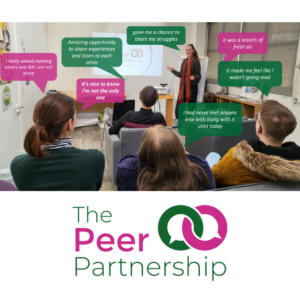 They have designed a half-day training to support participants to understand boundaries in order to support the wellbeing of staff and volunteers, and manage the expectations of people accessing their services.
The training includes: 
What boundaries are and why we have them
What can make it difficult to maintain boundaries
Case studies – Common situations that can occur and how we can respond to them
Codes of conduct – How to make sure visitors to your centres understand the purpose and expectations of what they can receive from your service.
Who is it for: 
Organisations and their staff, to support their understanding of and confidence in maintaining boundaries within their role.
How to Join: 
This training can be done online or in person. The sessions are capped at 15 participants to allow for meaningful engagement.
Online workshop : 23rd May 2023
Registration: here on Eventbrite.
They can also organise in-person workshops for individual organisations and their staff, or shared training between multiple organisations.
What previous participants think: 
"The training was Excellent– the perfect mix of relaxed and informal, accessible and personable with the confidence of experience, skills and knowledge. Our team really responded to the trainer's style and everyone learnt a lot and thought about things differently as a result. It was also tailored to our specific circumstances and experiences which made it relatable and relevant and helped me translate that into new policies and procedures for our organisation." 
Stacy Yelland, CEO, Eastside Community Trust
"Excellent Training. Some of the best I've been on for a long time" 
"Loved the discussions. I've got more understanding on how different team members feel about dealing with different visitors, and how to put boundaries in place" 
"I wasn't looking forward to the training, but it was really engaging and I got a lot more from it than I expected. This is important training for anyone working directly with members of the public." 
If you are interested in discussing this training for your organisation, or are interested in registering for a space on a mixed training, contact Sean Hourigan at info@peerpartnership.org, or call Brigistowe on 01179555038