UK Harvest FREE Project Launch!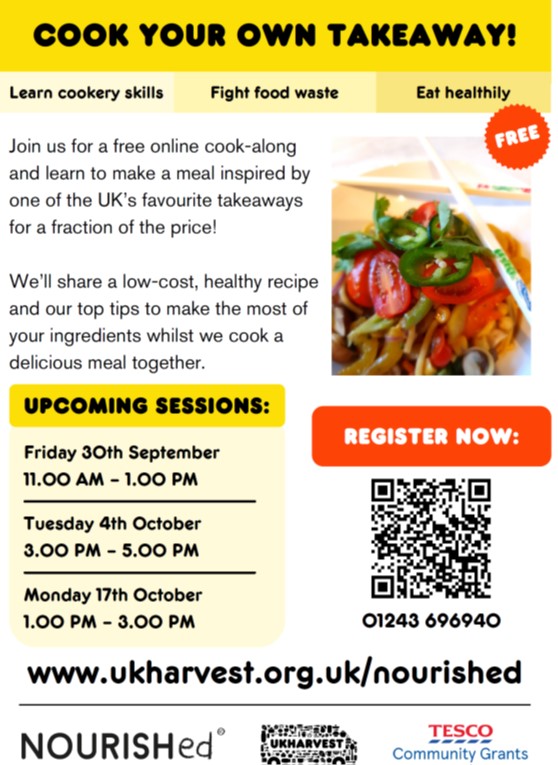 UK Harvest are a charity on a mission to Nourish Our Nation; protecting the environment by rescuing good quality food destined for landfill, educating on nutrition, cookery skills and reducing food waste in the home.
They are making contact to ask for your assistance in reaching out to organisations and individuals in the Crawley and Gatwick areas, to make them aware of the free money-saving, waste preventing, online cookery courses they are launching this month.
They're offering free cookery sessions to all members of local community, to help fight waste and save money during the rising cost of living. These are fun-filled live cook-alongs that will help everyone to eat healthily, fight food waste and save money by learning to cook from everyday ingredients. If it isn't possible for some to join the online sessions,  they have a range of free resources available too!
This project has been funded by Tesco Community Grants and is being made available throughout the country.
Their team of professional chefs, qualified nutritionists, experienced teachers and food waste experts have developed these sessions to be both engaging and educational. Through these courses, local community will be empowered to help the environment by reducing their waste and save themselves money by making the most their weekly shop. They are enjoyable sessions that would appeal to anyone with an interest in food, healthy eating, shopping on a budget and/or the environment.
Full details of the course and more information can be found now on the event page here:  www.ukharvest.org.uk/nourished