NHS is urging people to continue to attend vaccination appointments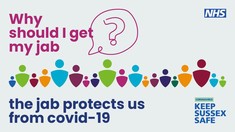 Across Sussex NHS have hit the incredible milestone of 1 million vaccinations given. There are now just approximately 125,000 people in the priority groups 1-9 who are yet to have their vaccination, and special clinics and services are being arranged to make this as easy as possible.
The NHS in Sussex is calling for people to continue to attend booked vaccination appointments and to book your appointment as soon as it is your turn. It comes after the government updated the advice this week about who should receive the Oxford/AstraZeneca vaccination.
As a detailed review takes place into reports of a very rare blood clotting problem affecting a small number of people who have had the Oxford/AstraZeneca vaccine, it has been announced that it is preferable for people under the age of 30 with no underlying health conditions to be offered an alternative vaccine where possible once they are eligible.
People who have already received one vaccination are encouraged to attend their appointment for their second dose, and make sure they receive the full long-lasting protection.
The NHS says the benefits of the vaccination, outweighs any risk and everyone should attend their appointment. If you are affected by the updated position, you will have the opportunity to talk through the options for you when it comes to your vaccination appointment.
Read more about the latest update and what people should do.
Continue to follow government guidance after vaccination
Whilst having the full course of the vaccine will reduce the chance of people suffering from COVID-19, they may still be at risk of catching it and spreading it to other people. Therefore, it is important that everyone continues to follow current government guidance to stay safe.
Find out more about the Sussex vaccination programme – www.sussexhealthandcare.uk/get-my-jab