Home Visiting Volunteers needed for prep course starting in January!
Do you have parenting experience and some spare time?  Would you like to help a local family with young children?
Home-Start is currently recruiting for Home Visiting Volunteers   
The aim of the training course is to prepare new volunteers for their role of working with families on a face-to-face basis and to explore how they can bring about better outcomes for children. Home-Start hopes to offer the sessions in person as restrictions allow and a venue will be confirmed in due course, but if necessary they will revert to online delivery.
The course will be as follows with sessions running 9.30-2.30. It is anticipated that volunteers will attend all sessions.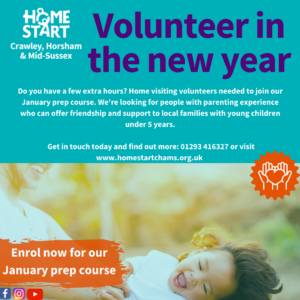 Session 1:   Tuesday 25th Jan 2022
Session 2:   01st February
Session 3:   08th February
Session 4:   15th February
Session 5:   01st March
Session 6:   08th March
What do Home-Start volunteers do?
Home-Start volunteers aim to build the confidence and independence of a family by:
Offering support, friendship and practical help.
Committing to weekly support – via home visiting, walk and talk, telephone or video link with a family as restrictions allow.
Protecting and respecting the dignity and identity of each individual.
Reassuring families that difficulties in bringing up children are not unusual.
Emphasizing the positive aspects of family life.
Developing a relationship with the family in which time can be shared and an understanding developed, providing a regular, reliable presence in that family.
Encouraging families to widen their network of relationships and to effectively use the support and services available in the community.
Drawing on their own experience of parenting to encourage parents' strengths and emotional well-being for the ultimate benefit of their children.
What is the time commitment?
In addition to weekly family contact (approx. 1.5-2 hours per week)
Attending the initial course of preparation
Attending supervision sessions with the Coordinator, according to Home-Start guidance, every 8 weeks
Attending ongoing training sessions
A commitment of 1 year to the charity (minimum)
To apply, please send a completed Application form-Volunteer as soon as possible and they will contact you to arrange an interview.