Group Volunteers needed by Home-Start
No training necessary – To start immediately
Groups are there to offer a safe and fun environment for families to play, meet other parents and receive any help and support they may need. Home-Start offers a range of activities for the babies/children and parents to experience for example, sensory play, using paint, water and other sensory items, as well as providing toys and equipment to aid development.
Main role of the Group Volunteer is to help the group run smoothly so everyone can enjoy their time and get the most out of the sessions.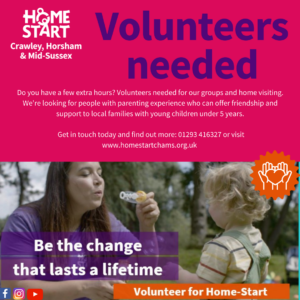 This involves:
welcoming parents and children and, where needed, helping the families into the hall
helping parents/carers to join in with activities together with their children
And, very importantly, offering a listening ear and showing care in an understanding, friendly, non-judgmental and supportive manner.
This is exciting and rewarding voluntary work which requires energy, commitment, reliability, creativity and a sense of humour.
To apply for this role please send a completed Application form-Volunteer as soon as possible and they will contact you to arrange an interview.