'Yes to Autism' – David Burns MBE Guest Speaker, Hybrid Event on 3 Nov 2022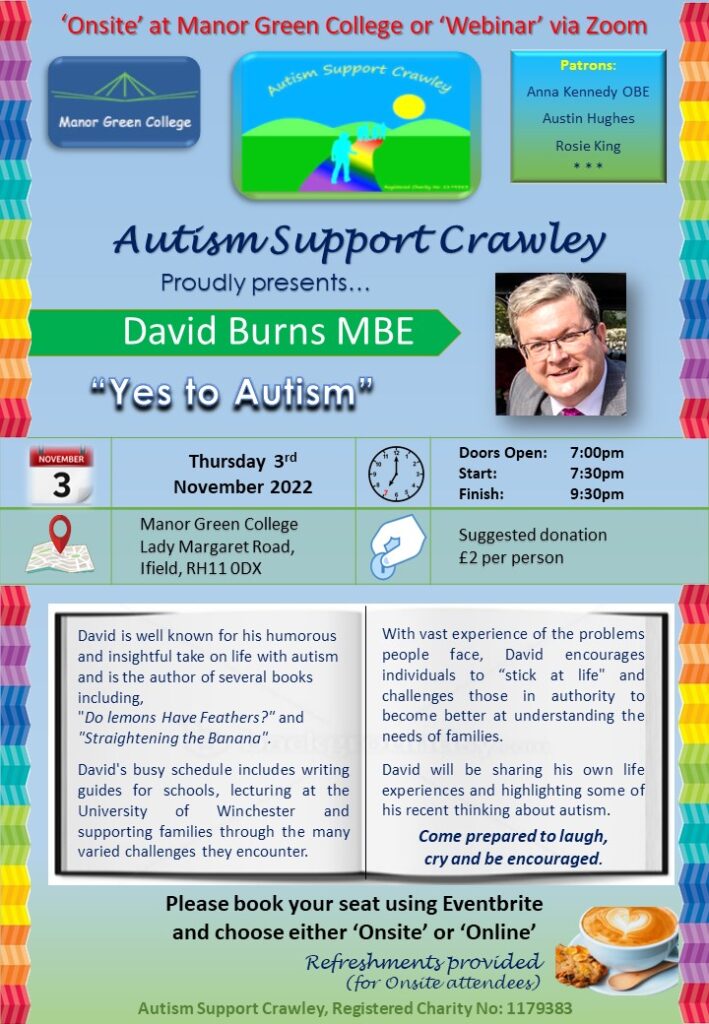 Autism Support Crawley are so VERY excited to be able to host their first hybrid Face to Face and Webinar Guest Speaker event.
Date – 3 Nov 2022
Time: 7.30 pm
Venue: Online  OR Manor Green College, Crawley, RH110DX
They will be joined by the incredible David Burns MBE, what he doesn't know about Autism, legislation and supporting families and individuals is not worth knowing.
This is a public event for parents/carers, professionals, Autistic individuals/persons on the Autism Spectrum, with or without a diagnosis and anyone with an interest in Autism.
Please click on the links below to book your place for either the in person meeting at Manor Green College or the webinar option. This is a free event, with a suggested donation of just £2 per person.
Book your place – 
Face to face option: On-site – Evening with David Burns – Yes to Autism Tickets, Thu 3 Nov 2022 at 19:00 | Eventbrite
Online / Remote option:  Off-site – Evening with David Burns – Yes to Autism Tickets, Thu 3 Nov 2022 at 19:00 | Eventbrite
To comply with Fire Regulations and Charity Commission Regulations, every person attending, in person or virtually, must have their own booking in their own name. They are very much looking forward to what will be an informative, powerful and thought provoking evening. Please feel free to share this event from here or our Instagram or Twitter. Thank you #Autism