Sussex Coach Core Showcase – 5th October 2022
Sussex Coach Core is showcasing event on apprenticeship program .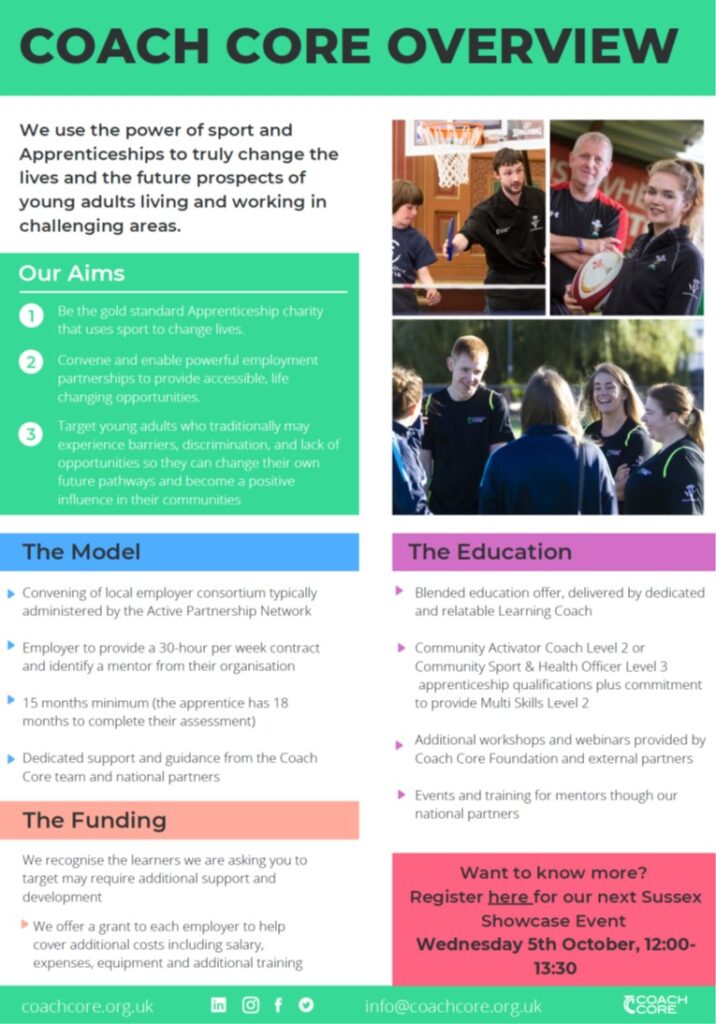 Venue: taking place on Zoom, online
Date: Wednesday 5 October 2022
Time: 12-1.30pm.
The event is an opportunity for employers to find out more about the apprenticeship program and how you can support a young person into employment. In addition, you will hear from current Sussex Coach Core employers and apprentices on the impact of the first Coach Core programme delivered in Sussex.
Benefits of taking on a Coach Core apprentice include:
High quality education and learning- Each apprentice completes the Level 2 Community Activator Award as part of the high quality education programme delivered by Lifetime, in addition to other learning and volunteering opportunities throughout the apprenticeship. Apprentices are keen to learn and will benefit from up to date training, which can be used to improve delivery and services.
Opportunity to diversify your workforce- Evidence shows the benefits of having a diverse workforce. It allows for more ideas and a broader range of skills among employees, as well as a diversity of experiences and perspectives, which increases the potential for creativity and productivity. The different experiences and insights that young people can bring will help to engage and support local communities to be active.
Give a young person an opportunity to join the sector- Opportunities for young people can be limited and unemployment rates for 16-24 year olds have  increased due to the impact of Covid-19. You are giving a young person who has faced challenges an opportunity to develop personally and professionally, helping to transform their life chances and provide an opportunity to join our sector.
Shape a young person in the values and mission of your organisation-It provides an opportunity to develop and shape a young person in the values of your organisation. They will have a deeper understanding of what you are trying to achieve, allowing them to develop deeper connections with staff and customers, resulting in higher quality work and increased commitment.
Reduce the cost of employing casual coaches- Recruitment and retention of casual coaches is a sector wide issue. Having a full time apprentice working for your organisation gives consistency and stability, reducing the reliance of casual coaches.
Gain new skills- There are many benefits of mentoring a young apprentice, including developing your own skills. The support of a local consortium of other Coach Core apprentice employers and Active Sussex will help develop your own knowledge and skills, as well as providing access to further support and new networks.
For more information about Coach Core in Sussex: https://www.activesussex.org/developing-the-workforce/coaching/coach-core/