Men's Circle – Crawley Mindfulness Centre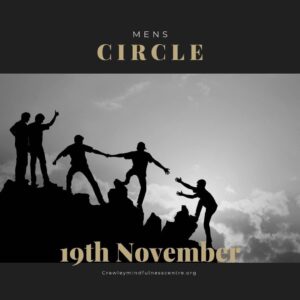 Crawley Mindfulness Centre are now offering a men's circle for a chance for men to get some support and a space to breathe. Circles will involve therapeutic activities and most importantly a chance for men to connect, build trust and feel a part of something.  Post covid, feelings of isolation are high and the struggle to reconnect to some form community.
Lee Cuddis will facilitate a circle that will allow connection to self on a deeper level, enabling a safe space to face your shadows, come face to face with society's expectations and challenge them. The circles will provide all an opportunity to support and be together working with each other, rather than competing against each other.
To find out more, drop a message or check out the website to book –
https://crawleymindfulnesscentre.org/current-classes/ola/services/men-s-circle