End of readjustment project event by Tangible Hands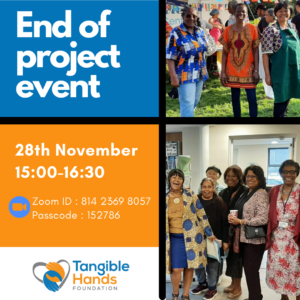 Tangible Hands would like to invite you to end of project event to mark the end of re-adjustment project which was funded by The National Lottery Community Fund.
This will be a FREE event and will be taking place online.
This event will take place on Sunday 28 November 2021, from 3pm until 4:30. They will take this opportunity to inform you of their findings through engaging with the community and how they will use this information to shape future projects and secure funding to improve the lives of families in Crawley.
Register for free using these links:
Eventbrite – http://ow.ly/G5IF50GF5cB
Facebook – http://ow.ly/yUSU50GF5cE