CIFN Gathering on 30th September 2021 – Invitation
CRAWLEY INTER FAITH NETWORK (CIFN)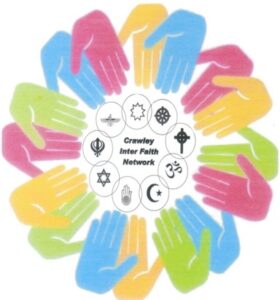 PROMOTING MUTUAL RESPECT AND UNDERSTANDING
YOUR faith community – YOUR beliefs – YOUR way of life – YOUR town,
YOUR Inter Faith Network
CIFN is delighted to welcome you at the next virtual gathering on 30th September 2021 at 19.30 hrs. The meeting will run for approximately 1 hour.
To keep pace with the rapidly changing landscape of faith relations, CIFN is seeking direction for its rationale and practical application. Please join with others in an effort to provide a meaningful and worthwhile expression to Inter Faith activity in the World.
At the meeting CIFN intend to :
Review the recent CIFN programme of activities during the pandemic emergency and promote the purpose of Inter Faith involvement for the future.
Consider the priorities for CIFN organisation and outreach.
Gather ideas to develop relationships among and between faith communities through Inter Faith activities.
If you prefer you can leave a suggestion / comment / message / question, on the CIFN Facebook page, through WhatsApp or on the Inter Faith Calendar Page at https://www.crawleyinter-faith.com
Post your contribution, leave your contact details and CIFN promise to get back to you. Note: your contact details will not be published.
Join the meeting on 30th September 2021 19:30 hrs
Zoom link : https://us02web.zoom.us/j/81014568267?pwd=WWVwVzRZYVlyTFRKakoxbGhyaHgyQT09
Meeting ID: 810 1456 8267   Passcode: 225900
Please pass this invitation to friends and interested members of your faith community. Please display your name on screen for the meeting.
Many thanks for your interest.
CIFN is supported by Crawley Borough Council and The Longley Trust.